A Simple Esbit Stove for Backpacking
Dr. Terry M. Trier

Esbit fuel has now become my fuel of choice for backpacking. For my method of backpacking, it works really well. I usually eat instant oatmeal for breakfast, Chinese noodles for lunch, and a Lipton noodle/rice dinner for supper. This kind of cooking requires only the boiling of water. So the task at hand was to come up with a lightweight method to get the job done. I have used gas and alcohol stoves. The alcohol stoves (both Trangia and homemade) work well and are trouble free but I think that burning Esbit will save weight and also be just as effective, if done right.

I experimented with the standard Esbit stove, which is cheap and weighs 3.5 oz, and it worked well. I could bring 1/2 quart of water to a boil and continue to boil for awhile, with just one cube. This test was done indoors, so obviously it will be less effective outdoors where the winds and cool weather can influence boil time. However, I have now used it on several backpacking and hiking trips and am more than pleased with its performance.

To save some weight I decided to see what I could do about the stove. At 3.5 oz, it's pretty light, but by searching the net, I discovered that others were using different kinds of ways to burn Esbit, everything from laying the tab on an inverted tin can, to making complicated stoves. The one I found that really interested me is here:

http://www.footprintpress.com/Articles/esbittabs.htm

My stove is very similar to the one above with primarily one main modification. I added a cup for the fuel tab.

The cup is made from the lid of a small Altoids tin. I used a Dremel tool to open the sides and ends a bit and then wired the cup to the base screen. Four paper clips did the job. My stove is also a little shorter than the one listed above. It's around 3 3/4" long, 2 1/2" wide, and 3/4" tall. I found the cup to be essential because when the cube is burned on the bare frame, melted fuel falls underneath and remains unburned.

To increase the efficiency of the stove, I placed a piece of aluminum flashing underneath. You can buy this in roles most home-building supply stores. It's sold in rolls that cost just a few bucks.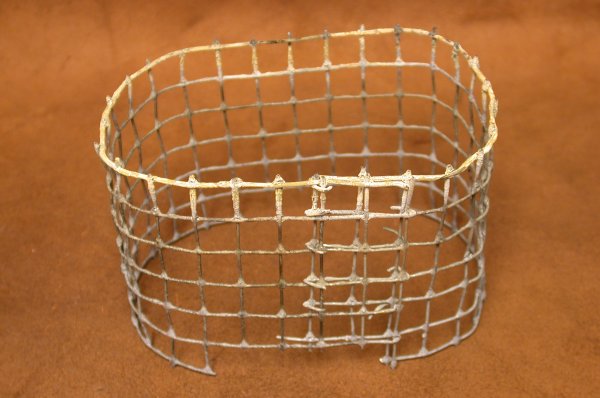 This is the pot stand. I wanted to make it small enough so that it would fit inside my pot for carry. This stove works as well if not better than the standard Esbit stove.
I measured the distance from the Esbit platform to the top and it measured 2.25", which, based on some info I found on the internet (link is no longer valid), appears to be optimal.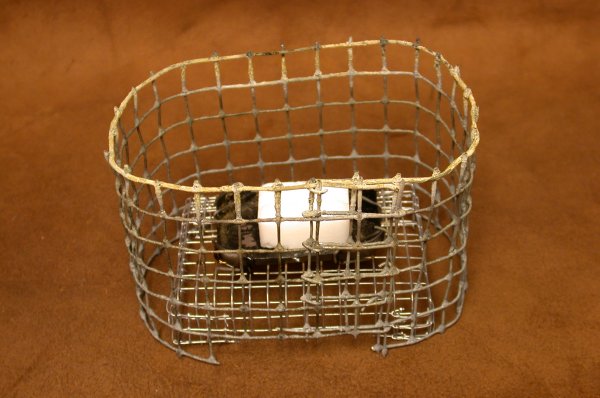 Here is the completed stove. Total weight is 2 ounces.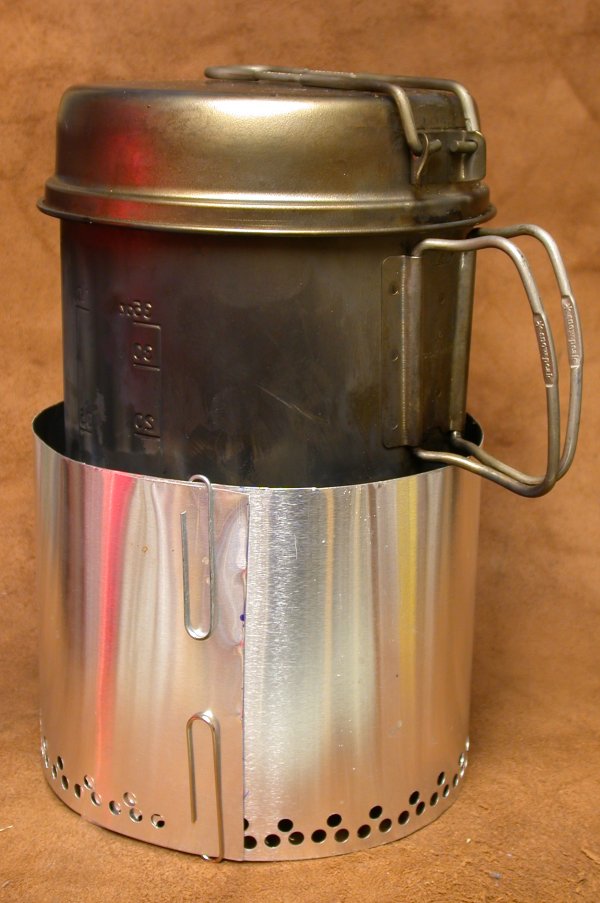 For Esbit to be effective, a windscreen is important (read critical here!). The windscreen should not be too big, perhaps creating not much more than 1/4" gap around the pot. I made the windscreen from aluminum flashing. It's held together by paper clips which makes the diameter adjustable. I used a paper punch to punch holes in the base for ventilation.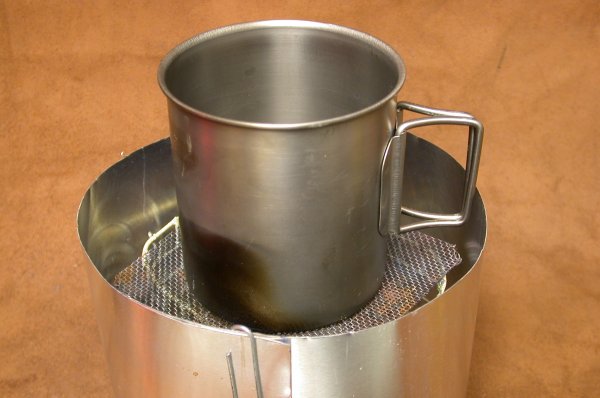 If you want to cook with a small cup like this titanium MSR cup, you will also need to carry a small screen to sit across the potholder. This is not needed for the large pot (a 2 qt. snow peak in the previous picture). Currently I am experimenting with a 900 ml snow peak which might just be ideal for the solo hiker.
The stove, potholder, windscreen, baseplate, extra wire screen, and cup, fit nicely in my snow peak pot. I haven't really calculated what I will save in weight, but I've eliminated the fuel bottle, so that's a start. Even if I use 6 cubes per day (which would be a lot), that would be a total of 15 ounces of fuel for a 5 day trip. Each cube weights 0.5 ounces. My Nalgene fuel bottle alone weighs 4 ounces, which is more than a full day's worth of fuel.
Some people have had bad experiences with Esbit while many others write glowingly about it. My suspicion is that the key to efficient use of Esbit is the windscreen. My experiences from backpacking trips have made me a believer in Esbit as an excellent option for lightweight hiking.
©2004 Terry M. Trier