Carvin' a Noggin
Dr. Terry M. Trier

One of my favorite things to do in the woods (or anywhere, actually) is whittle. The nice thing about doing it in the woods is that you don't have to clean up the mess. On a backpacking trip to the dunes of Lake Michigan, I wanted to test out a few tools on a little whittling project. For this project, I used the Sawvivor, a Frost hoof knife, a Gransfors Bruks mini hatchet, and the Gerber Yari.

I started with a block of wood (red oak) that I cut from a deadfall using the Sawvivor. This was pretty easy work for the little saw and an excellent tool for cutting saplings up to 5 or 6 inches.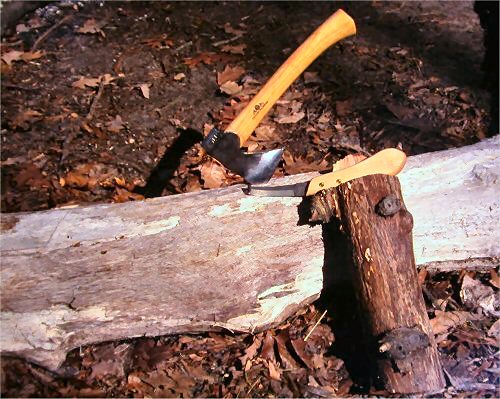 I used the GB mini to work the block into shape. I have to say I was totally impressed with this tool. It is a very precise wood carving tool and most of the initial shape was formed using the mini. It was a tremendous pleasure to cut with and the pile of chips lying around the noggin were easy as pie to create with the mini. This is a really wonderful tool.

I shaped the noggin a bit with the Yari and then began the bowl of the noggin using the Frost. It was a lot of work but the Frost "crooked knife" was up to the task. I really like the double edged model. However, the hoof knife did loosen up around the rivets and I eventually replaced the rivets with bolts and I recommend a similar modification if you plan on using this knife for heavy woodcarving.. In general though, this is an outstanding and versatile carving tool, capable of shaping the cavities of spoons, bowls, and noggins. A must have tool.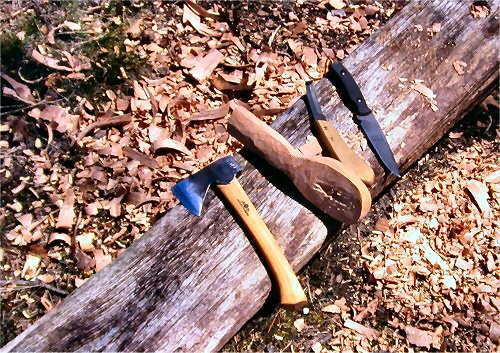 A little progress on the bowl.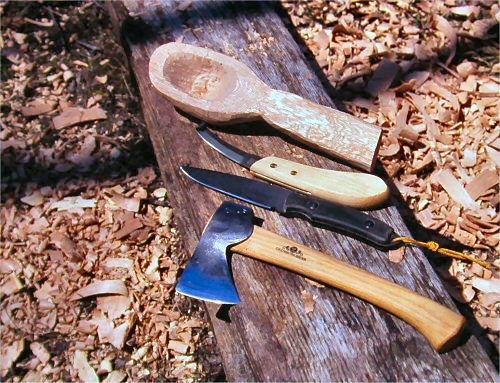 Here the bowl has taken shape and I started working with the Yari to shape the handle and the exterior of the bowl.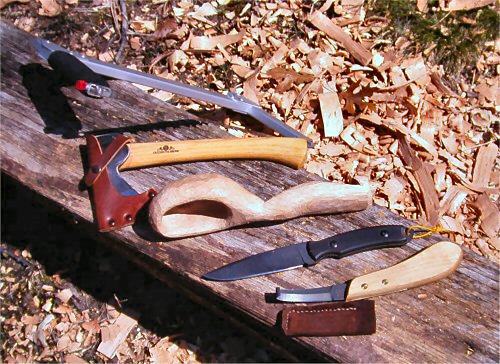 This pic shows the noggin pretty close to completion. I carved a bit more on it but not much.


The Yari was quite a surprise. Although not in the same class as a good Scandinavian blade, it is an excellent whittler and a real pleasure to use. The fine point is great for working in tightly curved areas and the straight, thin edge made nice paper-thin slices or big chips. It did whatever I asked. And the kicker is that despite many hours of whittling, when I was done, the knife easily still shaved hair off my arm! It has a factory edge that I've yet to touch. Gerber created an impressive knife with this puppy. It is a thin-bladed, good-sized knife that will handle small and large tasks. And no guard to get in the way but a reasonable finger groove for a firm grip. Too bad they have discontinued it. Although it looks like a "tactical" knife, its light weight, thin blade and edge, comfortable handle, and flat grind make it a winner for the outdoors.


©2004 Terry M. Trier